USA
Valparaiso to North Dakota, Alaska, Seattle to Las Vegas - Road Trip as part of Alaska to Argentina
26th - 28th August 2018, 4th - 15th September 2018, 20th September - 3rd October 2018
As part of our Alaska to Argentina adventure we had to drive parts of USA on three separate occasions. Firstly, from Valparaiso, Indiana north to the Canadian border via North Dakota. The second leg was perhaps our favourite as we crossed into Alaska and drove The Dalton Highway and lastly when we re-entered the country again from Canada and pressed south through Seattle, Death Valley and Las Vegas and into Mexico.
New Orleans Road Trip
3rd - 12th March 2017
Despite a supposedly warmer Mid-West winter than normal (although you could have fooled Pete who is used to English drizzle in early March), we decided to head south for our break and settled on New Orleans as our final destination. In total that would amount to a little over a 14 hour drive so as we left the light sprinkling of snow of Valparaiso behind we'd already planned a couple of small stops to break up the journey. First of all, Kristen kindly offered us a room for the night so day one of our journey was a relatively short drive to Georgetown, right on the southern border of Indiana. After introducing us to her dog 'Faye', the three of us went out for dinner in nearby New Albany where as luck would have it there was a musical group rehearsing for the upcoming St Patrick's Day festivities and they added a little bit of Irish charm to our evening.
The next morning after breakfast we left and headed to Nashville where we'd booked to stay for two nights. It was only about a three hour drive south so we took a slight detour and passed through the town of Santa Claus first. Unsurprisingly, being the only town in the world who's post office is called 'Santa Claus', the small community receives thousands of letters from children around the world each year and a group of volunteers ensure that each letter receives a reply. This is all very light-hearted and festive but as we passed through in early March it really did feel a little odd to see numerous statues of Santa dotted around the streets, all of which had festive names.
We were quickly back on the road and arrived in Nashville in time to locate our Airbnb and head downtown for dinner. Soon enough we were tucking into a tasty southern USA style meal of BBQ chicken with sides of mac and cheese and beans. Not only was it delicious it also set us up nicely for a night of drinking and music along 'Honky Tonk Highway'. We bar-hopped around a few different places that night, many of the establishments were, as expected, very touristy and we soon became accustomed to the same 'hits' being played over and over by each live band. Not that we were complaining though as we fully immersed ourselves into the good-natured spirit of the night. The South of the US has the reputation of the people being more open and approachable, and this was something we'd certainly noticed already, with people having no qualms about starting up light hearted conversations at the bar with fellow strangers.
Clearly, the second day in Nashville was always going to be a lot slower paced, as this time we had to carry our hangovers around with us. With this in mind, after breakfast we took a bus tour of the City and discovered there is so much more to Nashville than just the main strip. In hindsight we wished we'd devoted a little more time to trying out some of the more local neighbourhoods but vowed to return to do so another time. That night we did find one local bar, (it wasn't difficult really seeing as it was situated almost next door to our Airbnb) and rounded off this part of our trip with a couple more beers and more Southern style food.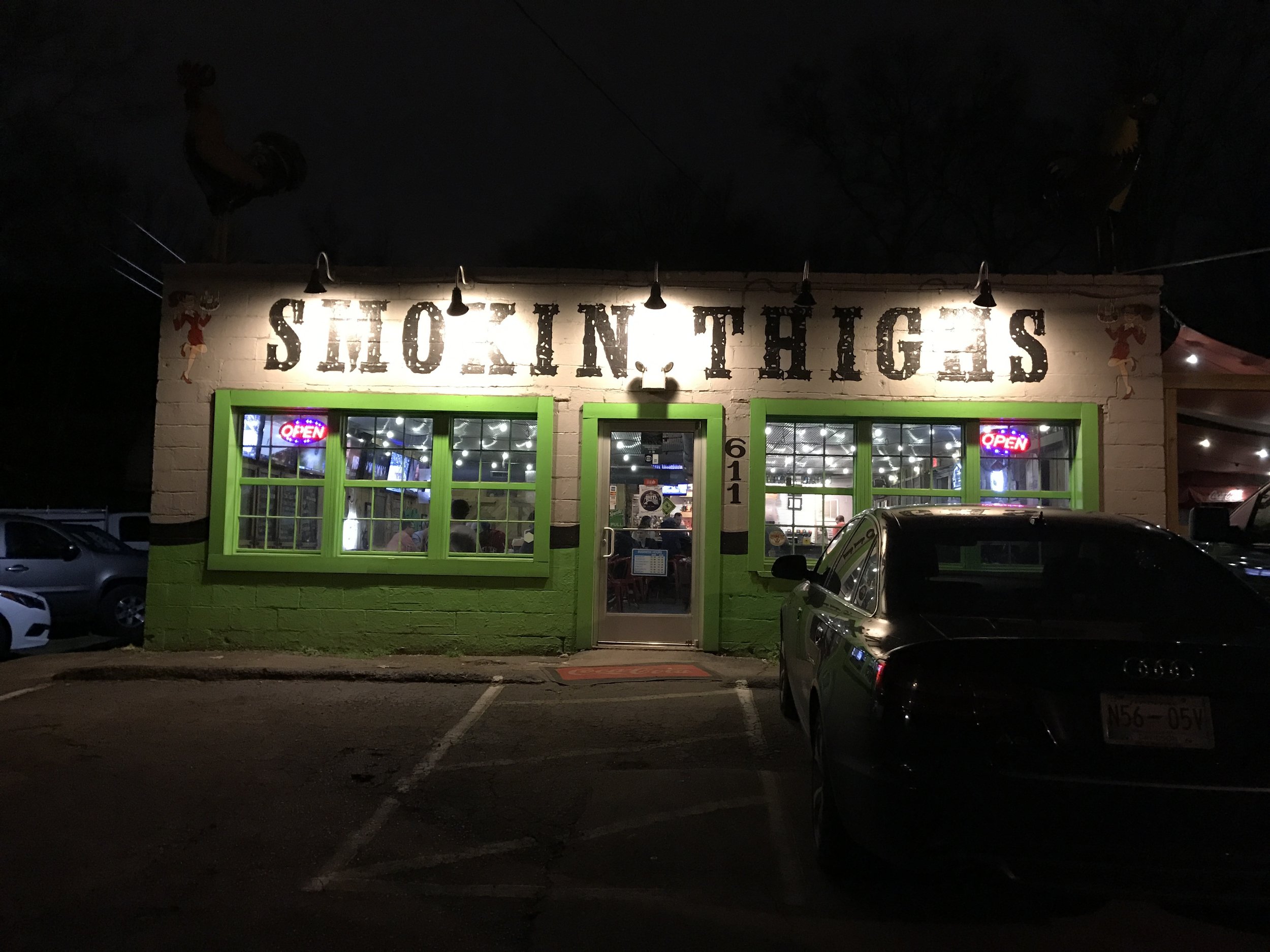 We faced an 8 hour drive to New Orleans the next day, but were in high spirits in knowing that on arrival we'd have 4 days here to properly explore and relax. We arrived fairly late in the day, and first impressions of where we were staying were not the best. New Orleans is a stunning City but does also have a reputation for being dangerous if one were to wander into the wrong district by mistake. As it so happened, our Airbnb was situated inside one of those districts. It was recommended that people staying in this part of town should avoid doing so if they had license plates from another state. We only realised this once we'd parked up and shut ourselves safely away indoors, leaving poor Harry to fend for himself outside. It's amazing how first impressions can often be deceiving. We arrived as it was getting dark, there seemed to be a lot of people milling about outside their properties and at first we were a little unsure as to what we'd let ourselves in for. Yet the next morning we realised that those same properties that had people hanging around them were home to the neighbourhood children and directly opposite our accommodation was a school that was now bustling with parents and children alike. Feeling slightly foolish we vowed to be more open minded during the rest of our stay here.
The plan for New Orleans was simple. Tours by day, and drinks by night. As soon as we made it down to the French Quarter for the first time we were immediately in love with this place. The area was brimming with culture, and steeped in history and we'd take time to learn about this fascinating part of the City through the guise of a guided walking tour. This took the best part of 2 hours and on completion left us feeling peckish meaning there was to be no better time to try out the tasty Beignets at the world famous Cafe Du Monde. Eager to see further than just the French Quarter we also then took a bus tour around the other more popular parts of New Orleans. It was a few weeks after Mardi Gras but even now the trees along the streets were still completely engulfed with beads from the carnival. Our bar crawl along Bourbon Street that night showed us however that the festivities were probably well and truly over as we almost had every bar we visited to ourselves. The torrential rain that accompanied us that night probably had something to do with this too.
The next day, after an intriguing tour around one of New Orleans cemeteries (where not only do you get to hear about the famous people that are buried there, the tour guide also delves deep into the history of New Orleans) we decided to leave the City for the day in search of more adventure. We'd booked ourselves on a kayaking tour of the nearby Pearl River. Forming the natural border between the states of Mississippi and Louisiana, this river is home to an abundance of wildlife including snakes, turtles, spiders and alligators. The tour lasted a couple of hours as we were taken deep into the swamps and taught by our guide how important these areas are for the ecosystem. He was a brilliant tour guide, calmly sharing geographical and topographical knowledge along with keeping each kayaker in check and grabbing snakes from trees for our viewing pleasure. We did not see an alligator (sadly it wasn't quite the right season for them) but are 50% sure we heard one. What we did see was a very large spider attached to the back of another persons kayak, and after informing him and brushing it aside kept quiet about the other two spiders we also spotted on his boat.
That night it felt as though the room was spinning. This was probably partly to do with the fact that after a long day's adventure we were again letting off steam with a few beers, but much more likely because we were consuming those drinks at the Carousel Bar in the French Quarter.
The last full day of our stay took us to Destrehan Plantation to learn about the history of the Destrehan family and the many men, women and children who were enslaved here. It was still only early March and yet the temperatures were already a very sticky 80 degrees (27c), we could only imagine how harsh the conditions must have been when being forced to work in the full heat of the summer. Whilst in the vicinity we also re-visited another swamp, and although we yet again failed to spot an alligator, on this occasion we are now 99% sure we heard one, and 100% certain that we both retreated back down the wooden walkways a lot quicker than we had first approached!
For our last night in New Orleans we returned of course to the French Quarter and then onto Frenchman Street to check out some lively jazz bars.
Sadly our time here had now come to an end and we faced the long journey back to Indiana. We'd split the drive over two days and quite fittingly as we woke up and left the hotel on the morning of our journey home, it once again started to snow.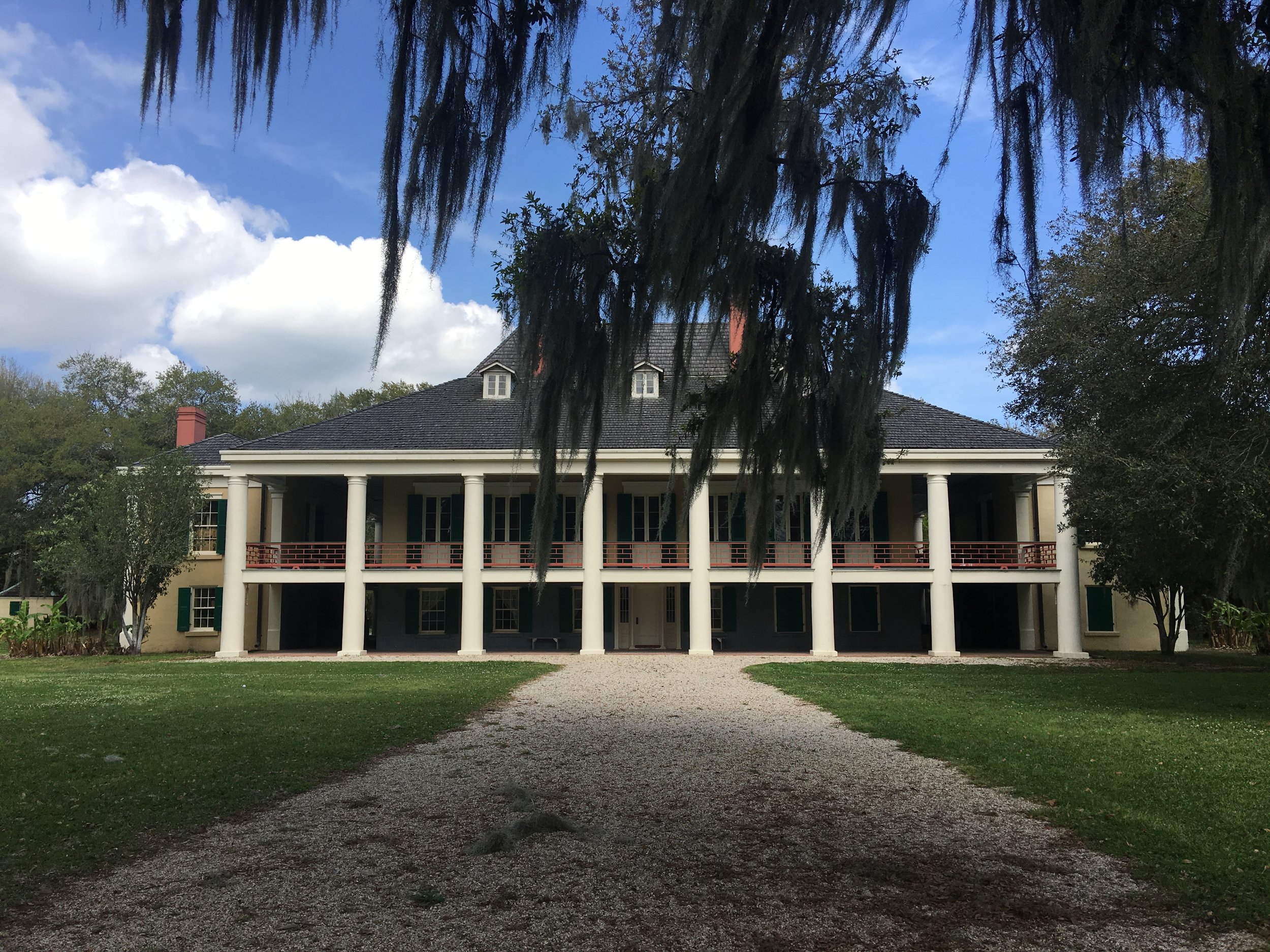 California Road Trip
22nd - 30th July 2016
Late in July, we flew west together for the first time for a week long roadtrip around parts of California. San Diego was our first destination to visit Mel's cousin Sarah, who would kindly let us stay with her for a couple of nights and also be our tour guide during the day. Thanks Sarah! On our first morning we drove the short distance north to hike at Torrey Pines State Natural Reserve, a coastal State Park consisting of a plateau with cliffs that overlook the beach and offer exquisite views out to sea and along the Californian coastline. As well as working up a sweat, we also managed to work up quite an appetite hiking the fairly steep trails and so after returning to our car via a walk along the beach, we headed to La Jolla for brunch. This seaside community isn't just famous for it's delicious foods, but also for the large group of seals and sea lions that pitch up along the rocks to rest each day. After eating we'd happily spend an hour or so acquainting ourselves with these intriguing, albeit rather smelly creatures.
Away from the beach the rest of our time in San Diego was spent checking out different areas of the City. This included wandering through Little Italy, checking out a fine Brewery (where locals were adamant that Pete was Australian), feasting on ice-creams at Seaport Village, walking the streets in awe of the thousands of revellers dressed up for Comic-con, and then joining a few of these zany characters atop a rooftop bar for the evening.
San Diego though was just a small part of our adventure. Before we knew it we were saying goodbye to Sarah (and her crazily adorable little dog Kaida) and hitting the road, with intentions to hug the coast for as long as possible. Our destination for that evening was San Francisco, but via the rugged beauty of the iconic State Route 1. Pressed for time due to the sheer distance we needed to cover, we used this as an opportunity to eat quickly at the cult American burger chain In-N-Out. The afternoon was then spent following the roads as they twisted and turned, with each corner offering a seemingly more picturesque view of the Pacific Coast than the last. As we headed north though, visibility dwindled due to severe wildfires further inland. We spotted many signs that had been put up by worried local residents, thanking the local fire crew for risking their lives in helping them.
In hindsight we realised that driving from San Diego to San Francisco in one day when you're constantly stopping to take scenic photos is perhaps considered biting off a little more than you can chew, and so by the time we finally limped into the City, many hours after the sun had set we were more than ready to just crash for the night, and duly did so after grabbing a tasty slice of pizza each for dinner.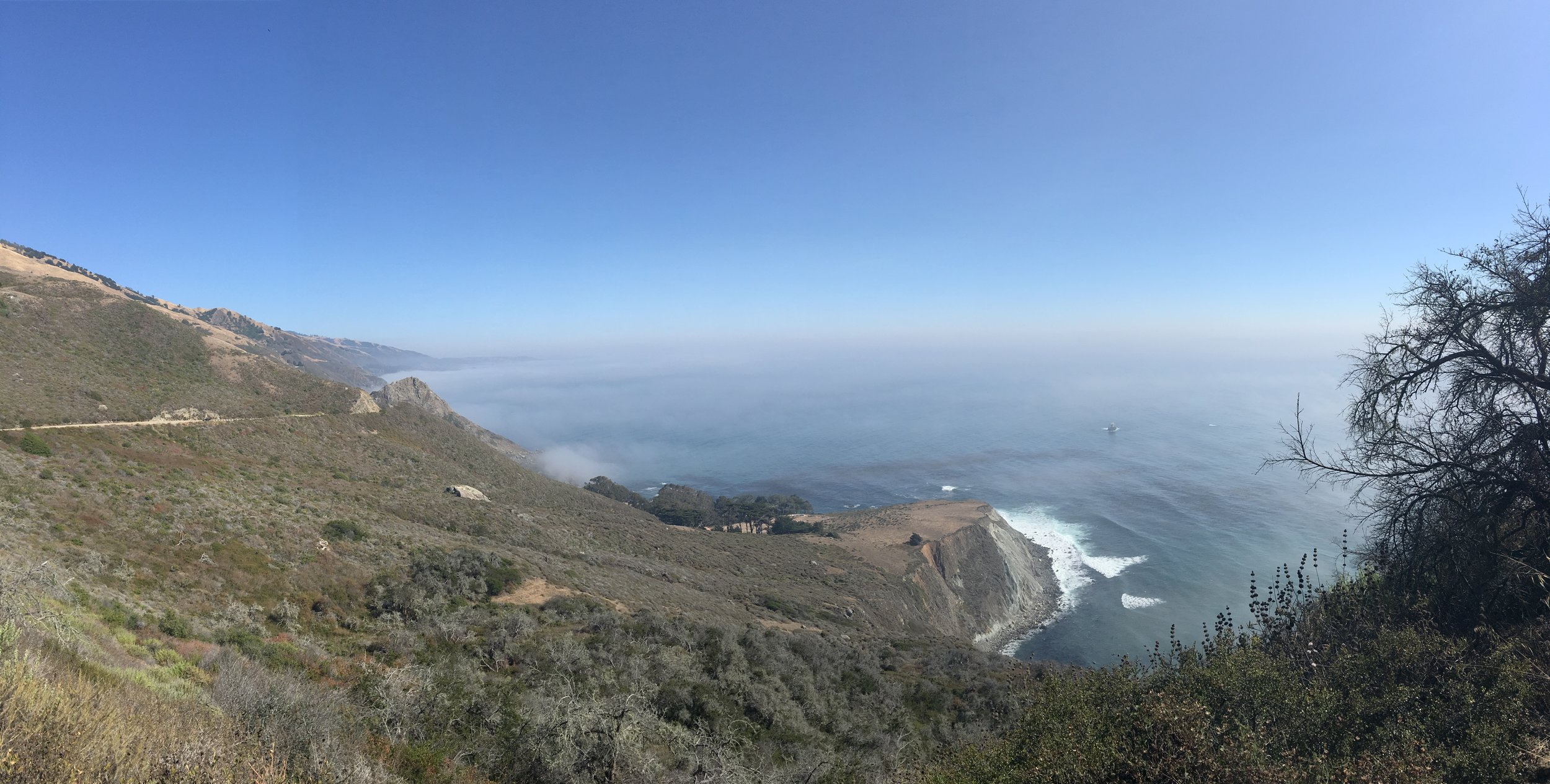 We may have only had one full day in San Francisco but we accounted for almost every spare second of it as we set about exploring what would turn out to be one of our favourite Cities we've visited so far. We began the day by inadvertently stumbling through Chinatown on our way to see Coit Tower. This was hardly surprising considering that it is purportedly the largest Chinatown outside of Asia. We'd make a mental note to return here later for dinner, before continuing on our way. It's common knowledge that San Francisco features extremely steep roads and sidewalks, but neither of us contemplated just how steep they would be. Our journey to Coit Tower felt at times like we were on a hike up a mountain, and there were even sections of the pavement where steps had been cut into the concrete in an attempt to make the route more accessible. Eventually, but very much out of breathe we made it to the tower and after a short time queuing were standing at the top and admiring the view. From this vantage point we could see Downtown San Francisco, Alcatraz Island, but not quite The Golden Gate Bridge as it was almost entirely obscured by the morning fog.
Feeling inspired by what we'd just seen we headed next down to Fisherman's Wharf, past endless tourist shops (of which we'd raid later in search of magnets and pins) and onto the Golden Gate Bay Cruise. This boat tour, complete with engaging audio, would take us out around Alcatraz and under the Golden Gate Bridge. Despite by now being a beautifully sunny day, the fog was still thickly clinging to the Bridge, obscuring our view slightly but enough was on view to capture at least 20 photos each of one of the world's most well known landmarks. For the first time since arriving in California, conditions had become a little nippy, so on our return to land we sought out a cafe and warmed ourselves up with clam chowder and chilli sourdough bread bowls for lunch.
As if our morning activities were not touristy enough, we endeavoured to outdo ourselves in the afternoon by posing for photographs on the iconic City trams and then locating the houses used in Mrs Doubtfire and hit TV show Full House. Lastly, we visited the Bridge again, walking over part of it although from the pictures you'd hardly know it as by now the fog had thickened to the point where visibility was at a minimum.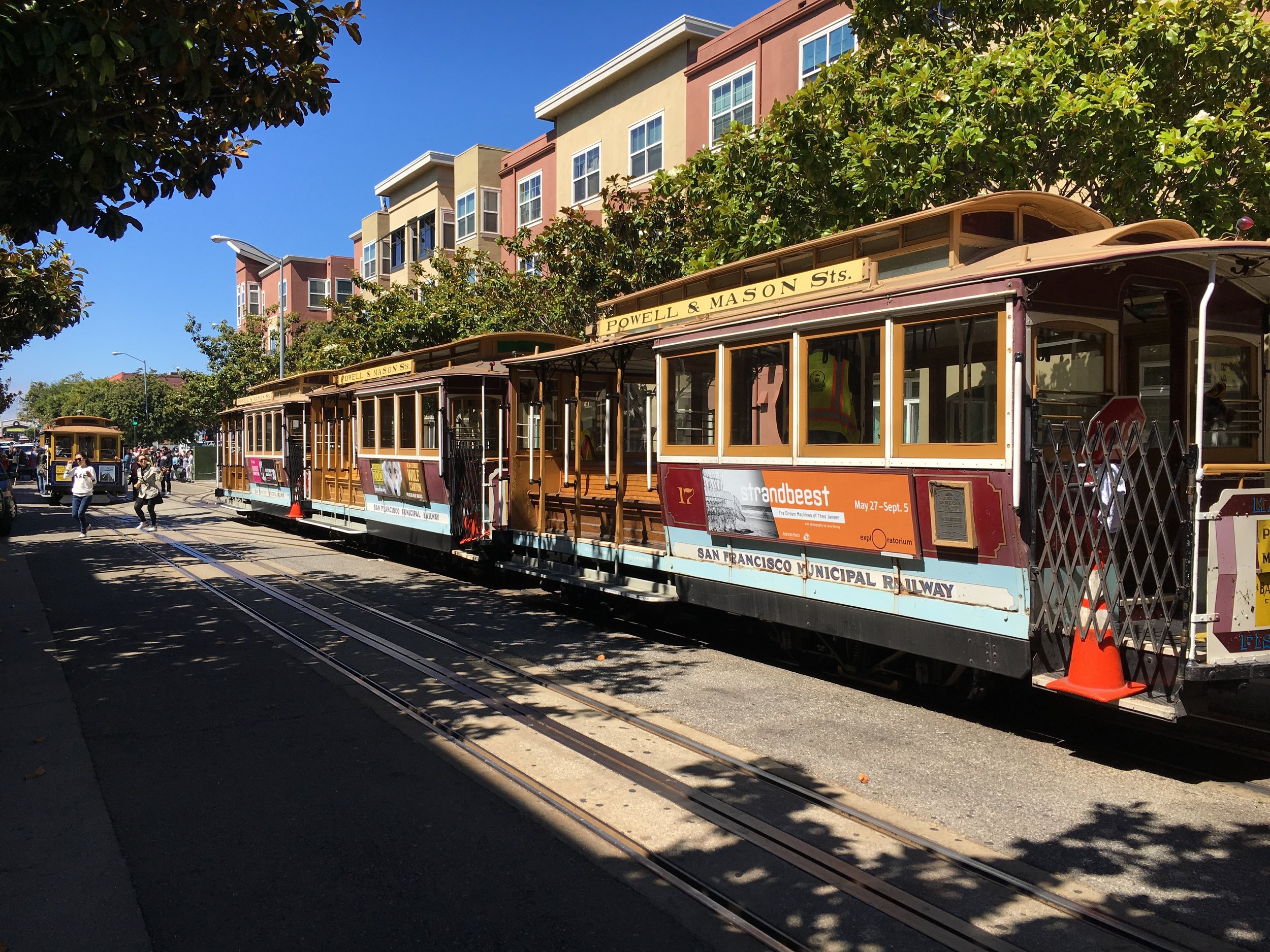 The next morning we were ready to hit the road again, which was handy as we'd have hours of driving ahead of us as we headed inland to the ghost town of Bodie. This would be a wonderful drive though, as after reaching Jamestown (our eventual resting place for the night) we'd continue on and pass through the steep hills of Stanislaus National Forest. This was one of the most beautiful drives we'd taken together, and our sorry excuse of a rental car would be forced to a crawl as the twisting roads climbed to an ever increasing altitude. By the time we hit the top we'd over done it and the car almost gave out on us as it began to overheat. As stunning an area that this was, it was not a place to get stuck as the nearest town was miles away. All we could do was pull to the side of the road and allow the car to cool down. Another vehicle soon approached us and stopped but the female driver seemed more pre-occupied with asking for directions as she was lost and running late than fully paying attention to our potential plight. Eventually we decided to continue, we reasoned that the climbing was over and so we'd ease ourselves back down the mountain and get the car checked over at the first hint of civilisation. That civilisation would come in the tiny settlement of Lee Vining where a garage attendant dutifully checked our car over and with no real signs of trauma, insisted that we were good to go. Feeling slightly dubious, we pressed on slowly to Bodie, the last 30 minutes of which took us off road, and this time we'd almost lose the front license plate due to the shaking of the car. Add to this the tension every time a large stone flicked up, potentially robbing us of our deposit and it was rather a slow, tense ride into Bodie. But it was well and truly worth it! Bodie is one of those places that will live long in the memory. Many tourist attractions are often so over populated with people eager to see them that they lose some authenticity, but not Bodie. The sheer distance and difficulty in getting to the derelict town meant that we almost had the place to ourselves and could wander freely from building to building and build up an eerie sense of what it must have been like to live there. Founded in 1876 a few years after the discovery of gold in the surrounding area, it had at first prospered as more and more people braved the harsh conditions to come and seek their fortune. By the time that the final mine closed in the 1940's, most of the population had already left, and as of 1960 has been declared a ghost town. The remaining properties have been maintained in a state of arrested decay.
After taping our license plate in position, and praying that it would hold, we then had to get back to Jamestown for the night. The quickest route by far would be to head back through the mountains, the way in which we had come and so it was with great trepidation that we took the car slowly back up to high altitude, not for one second trusting that it would not give up on us. Fortunately, we made it through and arrived at our destination shortly after dark.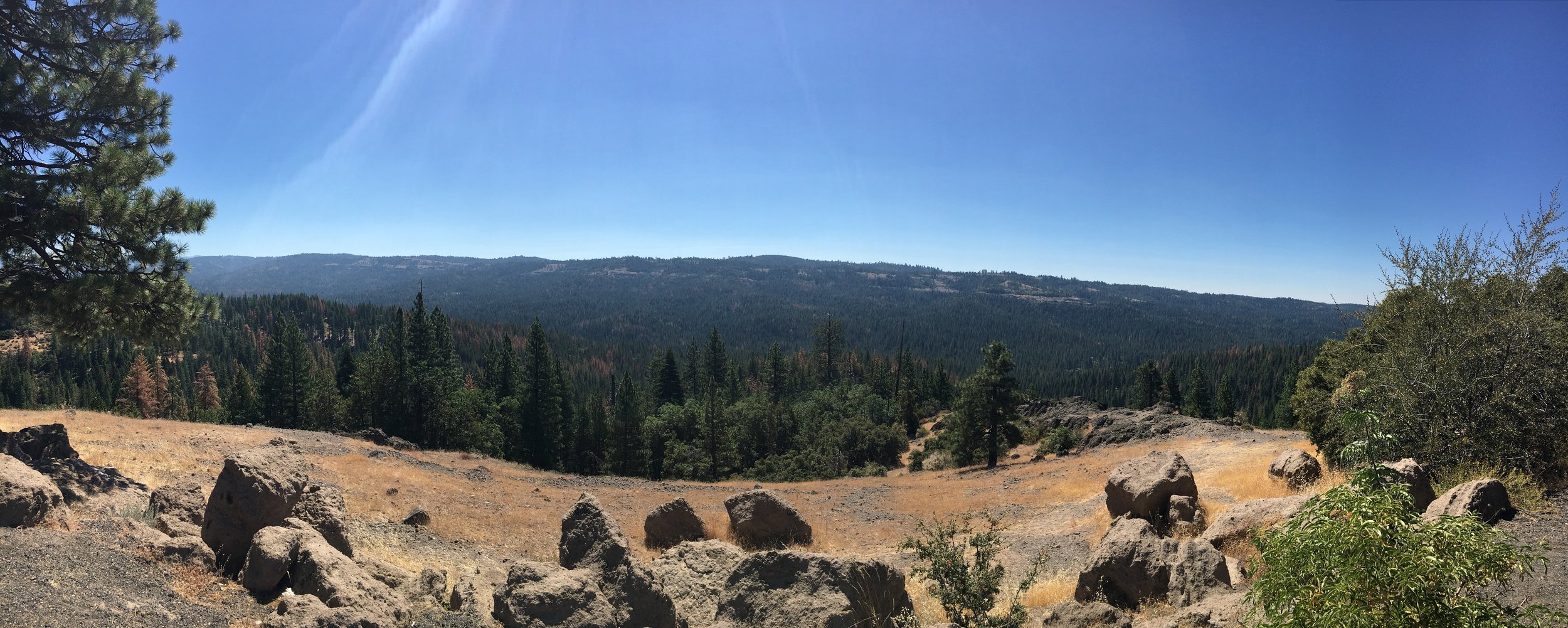 The next morning would see us travel to our first National Park of our vacation. Yosemite National Park. We had plans to hike the Cloud's Rest Trail, a strenuous 14.5 mile round trip at elevations of over 9,000 feet. The hike itself would see us gain almost 2,000 feet in elevation, the majority of this climb coming partway through the hike in the form of tricky switchbacks. It was at this point that the bizarre decision from both of us to not carry more than just a small bottle of water each was first scrutinised. The temperature was by now into the low 90's (about 30 degrees Celsius), very slight altitude sickness (and probably a general lack of fitness!) was already getting to Pete and we were both ruing the decision to leave extra water back at the car. In hindsight, this was one of the most foolish choices we've ever made. Add to this the constant batting away of huge flies - attracted to our increasingly sweaty faces - and you'd be forgiven for thinking that this was one of the most miserable days of our lives. On the contrary though, despite the conditions, the views were already beginning to become more and more breathtaking and each step forwards took us closer to our end goal. We knew that once we reached the top, we'd have incredible views of the Park in all directions, and would also be able to see Half Dome, an even more difficult hike that perhaps fortunately we were unable to secure permits for.
As is often the way with trips that see hikers returning from the way they came, as we pressed on further and further, people began to come towards us reassuring us that it wasn't much further to the top and to keep going. These small interactions encouraged us to keep moving, thinking that our final goal was almost in sight. Imagine our dismay then when after a couple more hours of walking we were told by a very weary looking couple that it was still over an hour to the top. That was certainly a low point, with the heat and lack of water getting to us, along with the knowledge that eventually we'd have to turn around and retrace our steps for such a long time to get back to the car. We finally made it to the end, all that was left to do was navigate a narrow, rocky ledge with steep drops on either side. Pete by now was feeling extremely drained and a bit light headed so opted to sit these last few hundred metres out whilst Mel pressed on to the end. Taking time to admire the views we caught our breath, and feeling satisfied with our achievements began the long descent back down. By now we only had perhaps a quarter of a bottle of water left each, and had clearly not taken on anywhere near enough fluid. It's hard to put into words the true feeling of that walk down, only to say it felt like an absolute eternity, and there were many occasions where one or both of us felt as if we couldn't go on. We'd be speaking to each other, but not really paying attention to what was being said, it was almost as if we were trapped in a dream world, although this dream was fast becoming a bit of a nightmare. Eventually, we had to stop a passing couple and ask them if they could spare any water. Being sensible they had plenty, and also threw in some electrolyte tablets which certainly gave us a short term boost. By the time we finally emerged in the clearing that took us directly back to our car we had stopped speaking to each other as we were both solely concentrating on putting one foot in front of the other. Once at the car we had to drive 45 minutes until we reached a gas station where we both over-indulged and bought 3 different drinks each, and that feeling of taking that first sip of ice cool liquid will live long in the memory. We completed the drive back to Jamestown feeling tired, and relieved and celebrated by scoffing an extra large pizza on our hotel balcony, safe in the knowledge that going forward we'd never repeat that mistake again.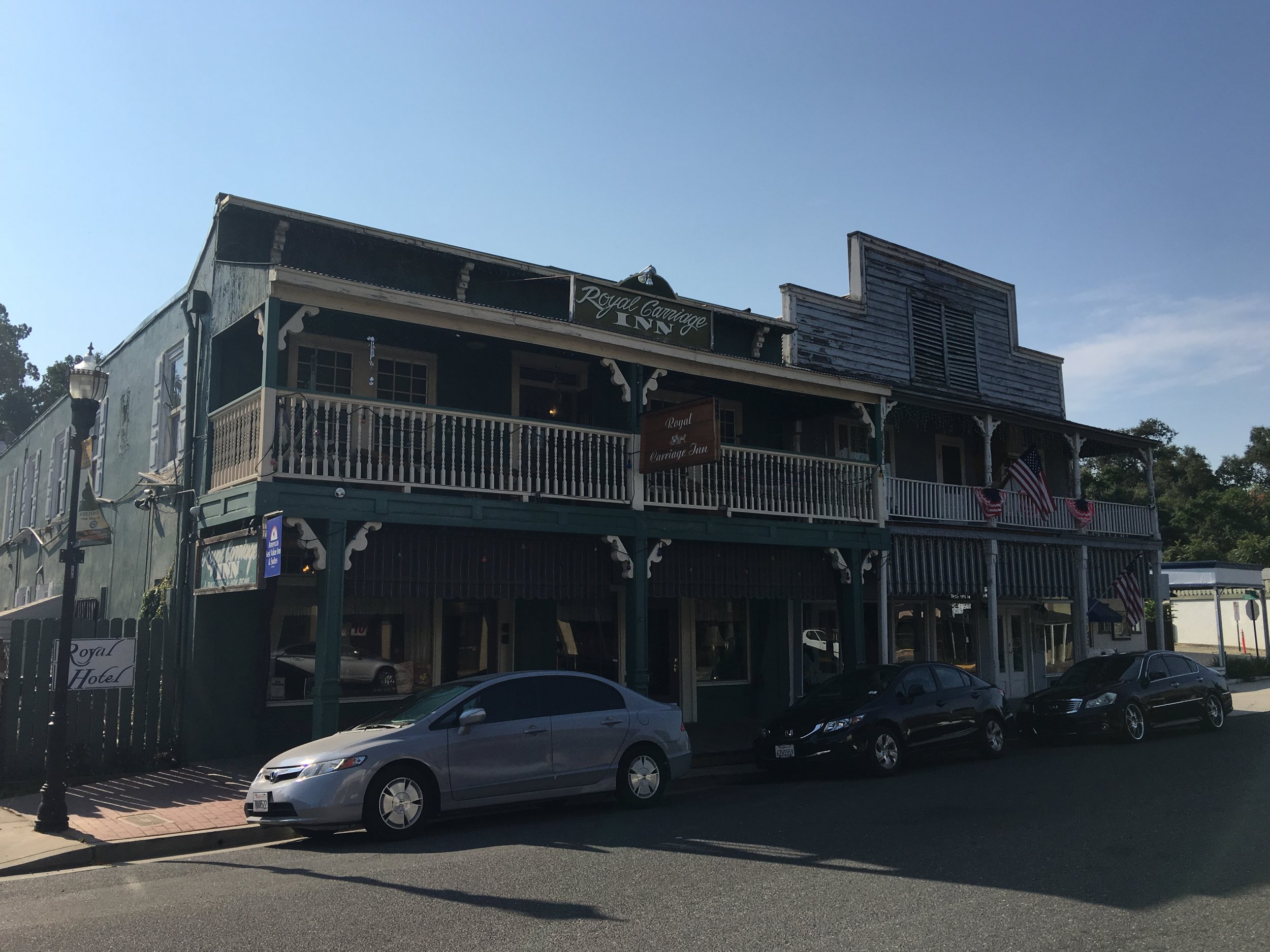 When planning this trip we excitedly realised we were able to visit two National Parks in one week, and beforehand planned on another long hike through Sequoia National Park. By the time it came to leave Jamestown and make the relatively short journey south our enthusiasm for long distance hiking had waned somewhat following the preceding days activity. As it transpired though, this National Park felt a lot more accessible and family friendly, enabling us to take on a much shorter walk and still complete our main objective of seeing the world famous Giant Sequoia trees. We relocated to the town of Visalia for the rest of our trip, and this allowed us easy access to the park. By now the temperatures were way over 100 degrees (more than 40c) and when not exploring nature we'd keep cool by checking out the town's range of bars and beer flights. Fortunately, things did cool down a little after we'd once again climbed the winding roads into the Park. The journey in was an experience itself as once again incredible panoramic views became the norm as we frequently pulled over along with many other tourists to admire our surroundings. Keen to avoid hiking too much but with plenty of time to fill we booked ourselves a tour of Crystal Cave, said to be one of at least 240 known caves in the National Park. The tour lasted about an hour and a half as we were lead through tight passageways by torchlight all the while being provided with in depth knowledge of the geology of the caves and all the interesting plants and animals that live in and around it.
As previously mentioned, our main interest with this Park was to see the giant trees and we even managed to locate General Sherman - the largest known living tree in the world in terms of volume. Naturally with something as popular and protected as this, we were unable to get too close and also had to make do with fighting the large crowds of people who were there for the same reason as us. Before leaving this stunning park we took on a fairly short circular hike that took us around many more of the large trees and boulders. This time we were able to get really close where the sheer scale of these living organisms could really be appreciated.
By the time it came to driving the fours hours back to San Diego to catch our flight home we felt as though we'd fit weeks of exploring into just a few days.
Maine Road Trip
4th - 14th May 2015
This was our first US road trip together. Over the course of 10 days we covered over 2,500 miles as we headed East from Indiana to Acadia National Park in Maine, before continuing North across the border into Canada. This part of the blog covers the US element of the road trip only.
Our first day on the road had us driving for over 8 hours as we aimed for Niagara Falls. Winter was well and truly over but summer was most certainly still on hold as we set off in cool, damp conditions. The drive was long, extended further by our desire to avoid highways as much as possible. This decision paid off though as we found ourselves ambling through Amish Country in Northern Indiana, before crossing over into Ohio and hugging Lake Erie until we eventually reached the Canadian border a little after dark.
After a couple of days of awe-inspiring sights on the Canadian side of Niagara Falls we returned to the US to continue our journey. It was another long day of driving as we picked the scenic route once again across the State of New York. It was towards the end of this drive that we were pulled over by a State Trooper for speeding. Perhaps fortunately (although it didn't seem so at the time) Pete was driving and once the officer who had stopped us realised that the culprit was not from the United States he appeared to figure that it was not worth the hassle of the extra paperwork involved and let us go with a stern warning. Feeling relieved at our narrow escape, albeit still slightly on edge we continued on for a few more miles before finding a cheap motel for the night in the small town of Ticonderoga. After a bite to eat in a nearby restaurant we stumbled across a bar and bowling alley and finished our evening drinking almost for free as the barmaid misunderstood the rules of a 'spin-the-wheel' drinking game designed by the bar to encourage punters to drink there and was handing out cut-price beer at a rate of knots.
The next morning we passed through Vermont and New Hampshire (two States we are itching to return one day and explore further), with the White Mountains in the background for company, and then onto Maine. Eventually we arrived at Bar Harbour, the small tourist town that accompanies Acadia National Park. Our stay here would coincide with the opening week of the season, meaning things were still a little sleepy with many businesses yet to open for the year. We checked in at our B&B and raced to the top of Cadillac Mountain just in time to catch the sunset. It was a beautiful and tranquil setting marred only by one guy who didn't seem to want to savour the situation, preferring instead to explain loudly to another nearby couple the best techniques to use when trying to strangle a chicken.
We'd spend 3 days here in total, hiking Acadia National Park by day and checking out the restaurants and bars that were open of an evening. Our favourite hike was perhaps Beehive Summit. A short, but strenuous hike involving the use of iron rungs as we climbed in search of spectacular views of the beaches below.